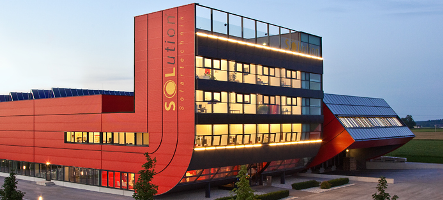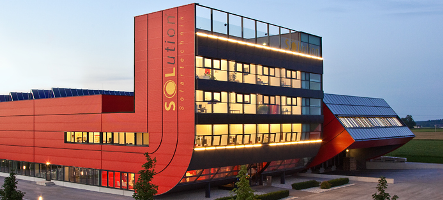 Austria: Greiner's Takeover involves Negotiations with 470 Creditors
Greiner´s takeover of the three Austrian solar thermal companies Xolar, Sun Master and Solution does not proceed as expected. In its first press release at the end of January 2011, Greiner Technology & Innovation GmbH – the subsidiary which is to integrate the three solar companies – announced that only OEM collector manufacturer Sun Master will go through insolvency proceedings. Two weeks later, the Greiner group launched a press release to announce that also wholesaler and installation company Xolar GmbH opened restructuring talks supervised by a liquidator. And another four weeks later on 11 March, solar system integrator SOLution, with its head office in Sattledt, Austria (see photo), went into insolvency, too – this time without a press release from Greiner.
Photo: Solution
The official explanation came from Greiner´s Head of Corporate Communication, Wilfried Stock. "We had long talks with creditors. The majority accepted our offer of a 65 % ratio, but not all of them did. Austrian law requires for 100 % of the creditors to agree to a non-judicial solution."
Franz Loizenbauer from AKV Europa, an Austrian association for the protection of creditors, confirmed that some of the creditors were convinced the Greiner group could have offered more. The 65 % ratio meant for them to waive 65% of their claims. Loizenbauer assumes that the decision will affect around 470 suppliers, which translates into a credit volume of EUR 5.6 to 5.7 million. Loizenbauer knows that several of the suppliers delivered to all three insolvent companies, which means they will take a three-fold hit.
He welcomes the upcoming judicial solution, because it will bring transparency to the financial situation of the companies involved. In the case of Solution with its restructuring procedure in absence of a liquidator, creditors are entitled to a minimum of 30 % of the outstanding debts. According to the official regulations in Austria, the suppliers of Xolar and Sun Master, with their insolvency proceeding in the presence of a liquidator, will receive a minimum of 20 % of the credit given. "If the judicial review concludes that liquidising the companies would allow creditors to obtain a higher return rate, there will be new negotiations with the Greiner Group," explains Loizenbauer.
Stock believes the restructuring process will be completed by May 2011. "We are working hard on incorporating the newly acquired companies into the Greiner Group. We have begun to train additional employees, in order to support the already existing staff."
The Greiner Group announced it will invest EUR 9 million in the form of shareholder capital contributions. The group currently has 7,220 employees and achieved a turnover of EUR 1.031 billion in 2009.
More information:
http://www.greiner.at
http://www.sun-master.at
http://www.xolar.at
http://www.sol-ution.com
http://www.akv.a