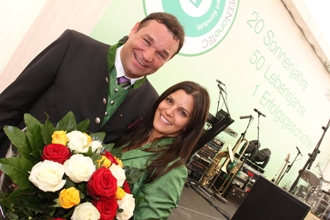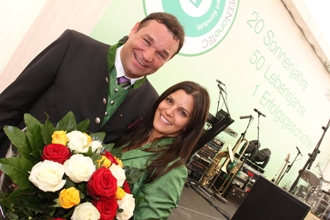 Austria: Greenonetec Celebrates Two anniversaries
20 solar years, 50 years of age, one success story: This was the motto under which Austrian collector manufacturer Greenonetec celebrated the company's 20th anniversary and the 50th birthday of its CEO Robert Kanduth (shown in the picture with his wife Helvig) on 13 April 2012. Over the last 20 years, Kanduth has not only been successful in leading his company, which is the No 1 flat plate collector manufacturer worldwide, but also in acting as the chairman of the Austrian industry association Austria Solar.
Photo: Dietmar Wajand
Austrian newspaper Kärntner Tageszeitung calls him the "Roi Soleil" and the Kronen Zeitung even speaks of the "American Dream": Over the last two decades, Kanduth's company Greenonetec has been a success story. Reason enough for Kanduth to celebrate his 50th birthday and the 20th company anniversary with a big party. On an area specially set up for the celebrations, the marquee and fairground offered a ten-hour entertainment programme – live music and an air show included. All in all, 1,100 guests were invited to the double birthday. "It is very important to me to have this party with all of my staff, family and friends," says Kanduth.
Even Austrian celebrities came to Kanduth's party. Governor Gerhard Dörfler presented Greenonetec with Carinthia's coat of arms. His deputy Peter Kaiser was quoted by the Kärntner Tageszeitung as saying: "Carinthia is the world champion when it comes to using alternative energy. The person we have to thank for that is Robert Kanduth and his flagship company. "
Kanduth told his guests that the present he would wish for the most was seeing Carinthia becoming energy self-sufficient until 2030. The CEO is helping to reach this aim not only by successfully running his company, but also in his capacity as chairman of Austria Solar. As chairman, Kanduth has just recently announced the funding of 12,500 solar thermal systems in Austria by the Climate Fund (see http://www.solarthermalworld.org/node/3434). "Solar heat provides only 0.3% to the country's total energy supply. Considering the rapidly increasing energy prices for oil and gas, this is alarmingly little," Kanduth criticises. According to him, utilising the sun would also lead to economic profit. "With almost 5,000 employees and a business turnover of over EUR 400 million, the solar thermal industry has become an important economic factor – and employer – in Austria."
Inspired by a do-it-yourself group, Kanduth designed and produced his first solar collectors in a small garage in 1991. He founded Greenonetec in 1994 and started industrial production of solar thermal collectors in 1995. Within a few years, Kanduth made his company the world leader in the production of thermal flat plate collectors. Using highly advanced manufacturing technology, Greenonetec produced a total of 700,000 m² of collector and absorber area in 2011, according to the company´s website. Nine product lines, each with its own basic technology, provide the foundation for more than a hundred different collector variants and assembly solutions.
Today, around half of Greenonetec is held by the Danish Solarcap Group. The other part belong to the Austrian Kioto Clear Energy Group, whose board chairman Kanduth has been since April 2009. In addition to solar thermal technology, Kioto's product range also offers PV products. With 380 employees, the group generated a turnover of EUR 130 million in 2011.
More Information:
http://www.greenonetec.com
http://www.kioto.com
http://www.solarwaerme.at
http://www.solarcap.dk