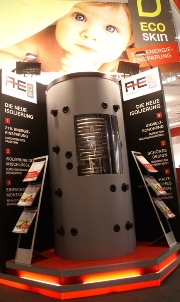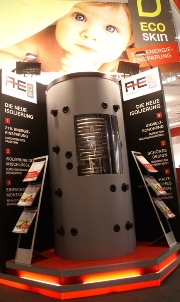 Austria Email: Polyester Fibre Fleece Insulation for up to 5,000 litre Tanks
The new polyester fibre fleece insulation by Austrian OEM tank manufacturer Austria Email was the star attraction of the company's stand at the international heating fair ISH in Frankfurt in March. Austria Email started producing polyester fibre fleece last year in their factory in Knittelfeld and launched it under the name 'Eco Skin'. 70% of the raw material comes from recycled polyester fibre, which, in turn, comes from recycled PET bottles – 30 % is new material. Unique is the composition of the fleece material.
Photo: Bärbel Epp

Austria Email calls it "Wirr-Vlies". It is produced through a thermobonding process, connecting (bonding) the polyester fibres through a heating process. "We are the only producer at the moment which uses this kind of material," Heinz Rucker, Key Account Manager of Austria Email, explains. Other manufacturers produce the fleece in many layers, which are bonded together to form an insulation and its final thickness. The "Wirr-Vlies" requires only one production step to achieve final insulation thickness, which makes the insulation smoother and more flexible.
Although polyester fibre fleece is 5 to 10 % more expensive than PU Soft Foam, it has a number of advantages: The material fits perfectly around the walls of the tank and it prevents flue leakage. "In addition, Eco Skin has been tested with a flammability rate of B2, whereas PU soft foam only reaches B3," explains Rucker. Low flammability is an important factor on the German heating market. Pursuant to the Renewable Heating Law (EEWärmeG), the heating system has now been designated as part of the building, which means it must fulfil the criteria of building materials. Wall and roof insulation material already require B2.
Since the beginning of the year, the manufacturer has been able to insulate tanks with a volume of up to 5,000 litres. The Eco Skin Insulation was the centre piece of the stand in Frankfurt. "The tank industry is undergoing a paradigm shift at the moment, changing from soft foam insulation to polyester fibre fleece insulation," says Rucker. "Originally, we wanted to be independent from suppliers. However, we recognised during the development phase the massive potential of the material." Austria Email sold 8,000 tanks with Eco Skin insulation in 2010 and wants to increase its sales to 30,000 insulated tanks this year.
More information:
http://www.austria-email.com/