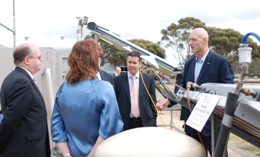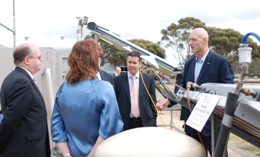 Australia's Push for Solar Hot Water

New testing facility: Peter Garrett (right), Australian Environment Minister, officially inaugurated the solar testing facility at the University of South Australia's Sustainable Energy Industry Support Centre in April. Photo: University of South Australia
The Australian government has recently increased the solar hot water rebate from 1,000 Australian Dollars (AUD) to AUD 1,600. The rebate is not means-tested; it is available for people who replace an existing electric hot water system with one driven by a solar or heat pump between 3rd February 2009 and 30th June 2012. This includes owner-occupiers, landlords and tenants. More information in the database of incentive programmes.
The programme is part of the government's AUD 3.9 billion Energy Efficient Homes Package, which was announced at the beginning of February. This programme will grant financial help to more than 300,000 households that like to install solar hot water systems, hence bolstering the solar hot water industry. The previous rebate provided AUD 1,000 and the applicant's taxable family income had to be less than AUD 100,000. The new programme seems to be successful as the government stated in an April 2009 press release, saying that since its start it has received more than 11,000 applications for the solar hot water rebate and more than 8,500 applications for insulation components.
Installation requires licensed plumbers
The rebate is only available to people who have not already applied to the Homeowner Insulation Programme that supports the installation of ceiling insulation. The standard regulations require a licensed electrician or plumber to install the hot water system if one is to be eligible for the rebate. The licensed installer must sign the application form, verifying that the system is a new and complete hot water system replacing an existing one at the dwelling with electric storage. He also has to verify that the system is eligible for at least 20 renewable energy certificates (see next article) at the time and place of installation.
New solar testing centre inaugurated

Furthermore, the Australian government made AUD 410,000 available for the development of a solar thermal testing centre at the University of South Australia in Adelaide. It was officially inaugurated at the 17th of April, 2009. "The Government is investing in research facilities, helping to stimulate jobs and drive demand in the solar industry, which in turn is delivering a major component of the Energy Efficient Homes package," the Minister for the Environment, Peter Garrett, explained. The facility possesses a varied range of tools to examine solar thermal technologies, including measuring thermal performance of solar collectors, checking the impact of rainfall and of large hail stones, evaluating the systems' safety and performance during extended periods of no hot water draw-off and their protection against freezing temperatures.
See the Press release of the University of South Australia here