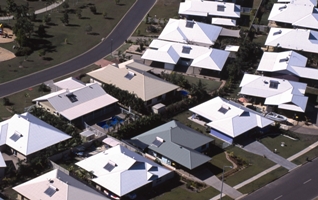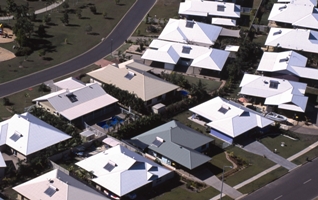 Australia: Sunny Days in a Sunny Country
Australia is pushing solar: The solar water heater market profit from the banning of electric water heaters in new homes. Photo: Rheem
Australia is back on track. 2008 was an extremely successful year, with a total number of 100,000 sold units, according to estimates by Mark Peger, the international manager of Australia's biggest solar thermal manufacturer Rheem Australia Pty Ltd. This means a newly installed solar thermal capacity of 266 MW (380,000 m²).
Solar hot water systems and heat pumps are now installed in 7 % of the households and, in 2008, represented 15 % of the total water heater sales in Australia. Approximately 50 % of these sales are for new homes and 50 % for the replacement market. The future looks even more promising. "Following the effective banning of electric water heaters in new homes, the government is now planning to ban them as replacements, progressively from 2010 to 2012. So, there is a significant growth opportunity for gas, solar and heat pump water heaters in Australia," explains Perger.
History of the solar thermal market in Australia according to the statistic of emeritus professor Graham Morrison from the University of North South Wales. Figure: University of NSW
Solar thermal has a long tradition in Australia. The first solar water heater company, S.W. Hart & Co (now Rheem's brand Solahart), already started producing solar heating systems in 1953. During the golden years of solar thermal technology in Australia at the beginning of the 1980s, manufacturers were able to sell solar collectors with a surface area greater than 160,000 m² (112 MW). In subsequent years, however, new gas networks and an aggressive policy of electricity pricing driven by energy providers made it difficult for solar heater providers to remain competitive. Sales in the solar industry stagnated. From 1987 on, annual sales remained between 60,000 and 90,000 m² of collector surface area (42 to 63 MW). Sales rose again to 120 MW (170,000 m²) by 2006, according to the International Energy Agency.
With growth rates averaging more than 20 % in recent years, the solar heating market is clearly back on track. "There has been a recent surge in the growth of solar water heater sales as a result of the renewable energy certificates (RECs) from the federal government's Mandatory Renewable Energy Target and the other subsidy programmes offered by various state governments," Mike Dennis, engineer at the Australian National University (ANU) in Canberra, says. Australian consumers can certainly not complain about a lack of funding. In most states, a state incentive can be added on top of the federal solar hot water rebate.