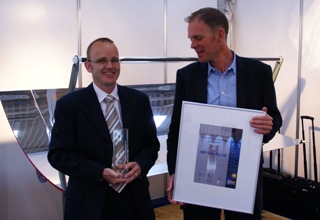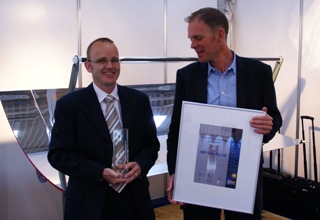 Australia: First Solar-Cooled Shopping Centre
Satisfied engineers: Antoine Millioud (left) and Stefan Minder of the Australian company NEP Solar show the Innovation Award that they won at Intersolar 2009 for their PolyTrough collector with a polymer-carrier-based reflector. Photo: Bärbel Epp
The first solar cooling system for a shopping centre in Australia is being developed in the city of Newcastle in New South Wales (NSW), 170 km north of Sydney for the Australian property company GPT.
The project is one of seven emissions-saving systems being funded by the NSW Government's Climate Change Fund.  The Fund is providing AUD 500,000 for the installation of a solar air-conditioning system in GPT's redevelopment of its Charlestown Square shopping centre, which will be completed in 2010 with an additional 110 specialty stores.
The new solar cooling system at Charlestown Square is expected to achieve substantial energy savings while reducing dependency on traditional energy sources. "We are aiming to reduce the extended centre's energy use by 50% and the solar thermal cooling plant will make a significant contribution to these savings," said Justin Day, GPT's Development Manager of Charlestown Square.
Two new Australian companies are involved in designing and delivering this innovative solar cooling system. 
NEP Solar was chosen for their Intersolar 2009 Award-winning unique parabolic trough solar collector, the PolyTrough 1200, with its modules consisting of a lightweight and stiff fiber polymeric sandwich structure.  Each module is 24 m long and 2.1 m wide and tracked by one motor.
International consultancy Solem Consulting was contracted by NEP Solar to conduct the hydraulic concept of the solar cooling system for the re-vamped Charlestown Square. Solem was founded in 2008 by Paul Kohlenbach in Sydney, Australia, and the first Solem office in Europe opened in summer 2009.  It is headed by Uli Jakob, a renowned expert in solar air-conditioning based in Germany.  Together, Jakob and Kohlenbach represent more than 18 years' experience in the field of renewable and efficient energy production, both applied and scientific.  They offer a wide range of consulting services, including full system design, simulations and economic analyses.
Solem specialises in the field of solar and thermal cooling, solar thermal process heat and trigeneration in combination with solar cooling. 
Further information:
http://www.nep-solar.com
http://www.solem-consulting.com
Further details about the Renewable Energy Development Program Round 1: http://www.environment.nsw.gov.au/grants/ccfredr1.htm