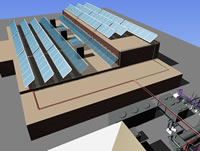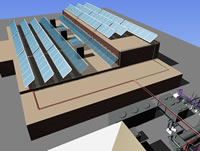 Australia: Country's largest Solar Cooling System on Hospital
The largest solar cooling plant built in Australia so far has been running since April 2011. The solar-assisted cooling installation is a project by the Echuca Regional Health, a public hospital in Echuca, around two and a half hours drive north of Melbourne.
Photo: Echuca Regional Health 
"The system in Echuca uses 102 vacuum tube collectors to heat water to 95°C, which can then be passed through an absorption chiller to provide cooling to three hospital buildings, including operating theatres and hospital wards," says Sonja Ott, Project Manager – Renewable & Distributed Energy at Sustainability Victoria. The energy agency subsidised the demonstration plant with a grant of Australian Dollar (AUD) 445,000. The grant covered 20 % of the investment costs including installation, which altogether totalled AUD 2.2 million (EUR 1.6 million). Whenever the absorption chiller is not in use, the hot water produced by the collector field meets domestic hot water demand or is stored in hot water tanks.
Most of the components of the Echuca solar cooling plant come from China: The vacuum tube collectors with a total of 300 m2 were manufactured by a Chinese company, before being imported by Victorian solar thermal system supplier GreenLand. The chiller is a product by the Chinese Broad Group, one of the world's major suppliers of thermal chillers with larger capacities. The Australian building services and environmental engineering consultancy WSP Lincolne Scott was responsible for designing and assembling the solar cooling system.
The hospital has excellent solar resources and profits in more than one way from the new installation: The hospital saves money on energy, as well as on peak demand for electricity. Total annual savings are expected to be around AUD 60,000 per year, with a greenhouse gas abatement of 1,400 tonnes CO2 equivalent, the project also saves costs that would have otherwise been invested in upgrading the hospital's electricity grid, which had been under strain from increased electricity demand due to rising air-conditioning needs. 
More information:
http://greenlandsystems.com.au/
http://www.broad.com
http://www.sustainability.vic.gov.au
http://www.wspgroup.com