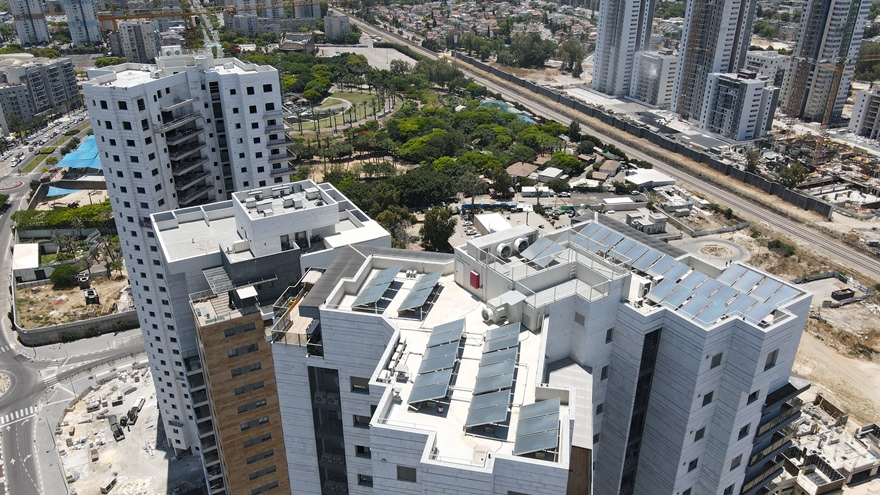 default
Ariston Group acquires Chromagen
At the beginning of the year the Italian Ariston Group completed its acquisition of the Israeli solar thermal system pioneer manufacturer Chromagen Hot Water Solutions. According to a press release published on 5 January 2022, the boiler manufacturer acquired 100 % of the shares and voting rights of the Israeli entity and paid, on an equity value basis, around New Israeli Shekel (NIS) 130 million in cash. This corresponds to USD 40.6 million. The brand name Chromagen and the factory will both remain the same, confirmed Ariston Group upon enquiry by solarthermalworld.org. The photo shows a 145 m2 field on top of multi-family blocks in Kiriat Motzkin, near Haifa. The system provides hot water for 65 apartments on floors 9 to 25 in the new block.
Photo: Chromagen
"With Chromagen, we further strengthen our position in the market for hot water based on renewable technologies, in line with our Group's vision to provide sustainable comfort", said Ariston's Executive Chairman, Paolo Merloni. As of 30 September 2021, the group reported revenues of EUR 1.95 billion, about 7,700 employees, representative offices in 42 countries and 23 production sites. Ariston produces collectors and tanks in the Marche region, central Italy. Until the end of 2018, the group also produced collectors in Pune, India, in its subsidiary Racold.
"We are proud to join the Ariston family. Our collaboration covers the dynamic markets of Israel and Australia, as well as Spain and other international markets, and this partnership will create new opportunities in these thriving countries", said Arik Dayan, CEO of Chromagen.
Distributor network in 35 countries worldwide
Chromagen is among the largest collector and tank manufacturers in Israel and has two subsidiaries –in Spain and Australia, as well as a network of distributers that help serve customers in around 35 countries worldwide. The company is 60 years old and belonged to the Kibbutz Sha'ar Ha'amakim. According to the press release, Chromagen employs over 300 people and reported revenues of approximately NIS 400 million (USD 125 million).
The Ariston Group has decided to keep the brand Chromagen as well as the factory and the management in place at its headquarters in Israel. "There is no change planned in the Chromagen Israel management. This management led Chromagen successes even during challenging COVID 19 times and exceeded all expectations," says the official statement of Ariston Group. "We trust the Chromagen CEO and the management to continue achieving our mutual goals."
Solid foothold in Australia
Furthermore, the Ariston Group pursued this transaction to further strengthen the group's competitive position in the renewable energy segment outside Europe: "Chromagen has a solid foothold in Australia. This acquisition allows the Ariston Group to enter a relevant market for hot water, building on the solid position of Chromagen Australia in the building industry, with a strong focus on renewable-based hot water solutions."
The Ariston Group already sells its products under well-established local brands such as Calorex, HTP, Chaffoteaux, ATAG, Racold and Ecoflam. Chromagen therefore fits well into this multi-brand strategy.
Organisations mentioned in this news article:
https://www.ariston.com/
https://chromagen.com/