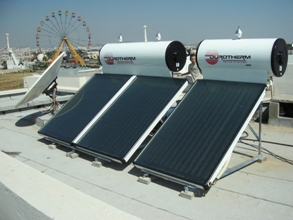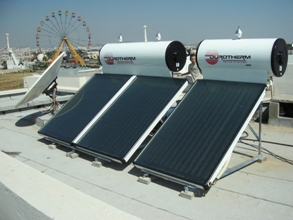 Algeria: Roll-out of the first Phase of Subsidy Programme ALSOL
The Algerian solar water heating programme ALSOL went into its first pilot phase. 400 residential systems with a 200 litre storage tank have been subsidised at around 45 % of the investment costs, capped at Algerian Dinar (DZD) 110,000. The licenses for installing the 400 subsidised systems were distributed among 15 solar thermal system suppliers in January. Largely, those thermosiphon systems consist of 1 collector, as can be seen on the photo on the left.
Photo: SCET Energie
The administrator of ALSOL is the National Agency for Promotion and Rationalisation of Renewable Energy Use (APRUE), which distributed the 400 systems among the 15 system suppliers according to the installers' man power. In addition, installers had to participate in a three-day training course offered by APRUE. The course covered theoretical and practical units and was held two times, which means that altogether 40 participants of 30 businesses were able take part in it.
Because there have not yet been any manufacturers of solar thermal components in the country, all of the subsidised systems are imports. Two international manufacturers profited the most from this first round of subsidies: Tunisian collector and tank manufacturer Sines Industries and French manufacturer Jacques Giordano Industries, with the latter running two solar thermal factories, one in Aubagne, France, and one in Grombalia, Tunisia.
"We will deliver 60 % of the 400 solar water heaters," Ismail Sibai, owner and Managing Director of Sines Industries, confirms. His largest client in Algeria is SCET Energie, an installation company specialised in off-grid PV installations. "We qualified for the installation of 45 solar water heaters, which is a new technology for us," confirms Amine Berraf. The Managing Director of ENER PLUS and Technical manager of SCET ENERGIE admits that it is not so easy to find new clients, because not many have yet been aware of the fact that you can heat water with the sun. Berraf assumes he will be able to install all 45 units by June this year.
According to APRUE, ALSOL is thought to again continue this year. 2,000 residential systems and 3,000 m2 of commercial solar water heating systems are going to be subsidised in this second round. The conditions for the residential sector will stay the same: 45 % subsidy of the investment costs at a maximum of DZD 110,000. Commercial installations for hotels or restaurants will be subsidised up to 55 %, capped at 35,000 DZD/m2.
The economic frame conditions in Algeria are good at the moment. The building sector is one of the most dynamic sectors in the country, with annual growth rates of around 10 %. The creation of 1.2 million apartments is planned by 2014. And what is most important: The treasury is well filled. A foreign debt of USD 3 billion seems almost negligible compared to the country's foreign currency reserves of USD 158 billion.
More information:
http://www.scetenergie.com
http://www.enerplus-dz.com
http://www.aprue.org.dz
http://www.sines.com.tn/
http://www.giordano.fr/