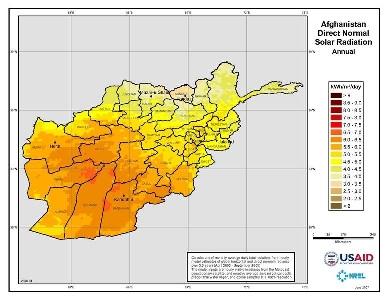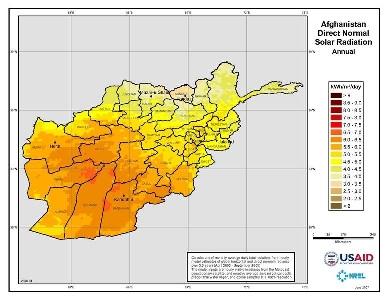 Afghanistan: German Manufacturer Supplies Solar Thermal to Kabul Multi-Family House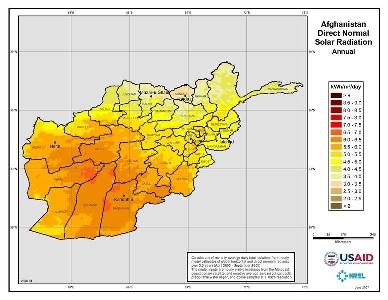 Many sunny hours at low temperatures: The Afghan winter is predestined for solar heat use. German collector manufacturer REM GmbH has just delivered the first solar thermal system to a block of flats in Kabul – the first of a series of 21 installations which are to be set up in and around the capital. The private customer is using solar thermal technology to ensure a primary heat supply for his buildings. The project is implemented without support by governmental agencies or the help of subsidies. System design and construction is in the hands of German Solar Sky GmbH. The company, which plans and implements projects in Germany and abroad, has made Afghanistan and its neighbouring countries a top priority.
Source: NREL
Using solar energy is said to contribute to space heating coverage during Afghanistan's cold season. "The winters in Kabul are similar to those in Germany. There are four months during which the average temperature falls below 0°C," says solar expert Assghar Mahmoudi from Solar Sky. Between November and February, however, the solar radiation is 2 to 3 times higher than in Germany.
Solar Sky designed the solar system, which consists of 20 solar collectors and a 3,000 litre storage tank, in cooperation with collector manufacturer REM. REM also delivered the plant to Afghanistan. "There are no actual heating systems in Afghanistan. Because the electricity goes out repeatedly, it is very difficult to maintain a reliable heating supply in buildings," says Mahmoudi.
The first collector system has just been installed in a block of flats with 20 residential units. The collector field is small because of its use in a pilot project, but solar radiation is high. Supported by gas-fired boilers, the solar system will start providing energy for both hot water and space heating within the next weeks. A local Solar Sky employee will be responsible for on-site maintenance of the systems. A German installation company will carry out the installation and conduct the training.
According to the German Meteorological Service, the average irradiation in Kabul is 2,000 kWh/m². In comparison, Germany's irradiation is about 1,000 to 1,300 kWh/m². "Compared to Germany, Kabul has, on average, twice as many hours of sunshine per year. This will prove to be a benefit especially during the winter months," says Thomas Fertl, Sales Manager at REM. "It means that a solar thermal system in Afghanistan can reach a much higher solar yield and solar fraction than a system in Germany."
More information:
http://www.solarsky-gmbh.de
http://www.rem-gmbh.de