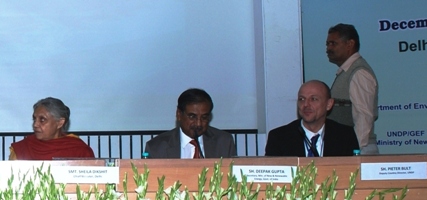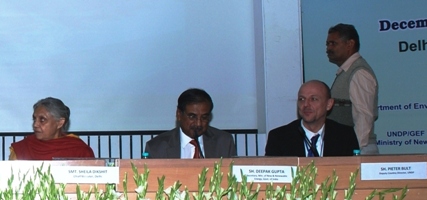 UNDP/MNRE Workshop in Dehli
Action Plan for National Capital Region of India: 200,000 m2 by 2011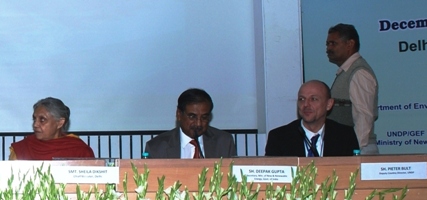 Notables on the podium during the "Promoting Deployment of Solar Water Heating Systems in National Capital Region" workshop in New Delhi, India, in December 2009
Photo: Jaideep Malaviya
Notables on the podium (from left): Shiela Dikshit (Chief Minister, Delhi), Deepak Gupta (Secretary, Ministry of New and Renewable Energy, Govt. of India) and Pieter Built (Deputy Country Director, UNDP).
During the "Promoting Deployment of Solar Water Heating Systems in NCR Region" workshop in New Delhi in the middle of December, the Indian Ministry of New and Renewable Energy (MNRE) presented an ambitious solar action plan for the National Capital Region (NCR): Its 2011 target is a newly installed collector area of 200,000 m2 in this densely populated area, which spreads over 33,578 km2 and comprises of the capital city of Delhi and adjoining urban areas in the three states of Haryana, Uttar Pradesh and Rajasthan. Savings in times of electricity peak loads are expected to reach 100 MW.
The Global Solar Water Heating Project of the United National Development Programme (UNDP), in which India is one of the six participating countries, supported the one-day workshop (see also news about Albania). You can download the presentations held at the workshop.
The action plan sets the share in domestic 2 m2 collector systems to 75% – still leaving room for 250 large installations with an area of 200 m2 each and an average output of 10,000 litres per day. The large systems are to be installed in hotels, hospitals, guest houses, nursing homes, hostels, colleges, schools, restaurants, industrial units etc. The 200,000 m2 will be split among the regions as follows: 100,000 m2 go to the Delhi region, 60,000 m2 to Haryana state; Uttar Pradesh will get 30,000 m2 and Rajasthan state 10,000 m2.
The Action Plan includes (see attached presentation):
Mandatory 40 % share of solar-heated water in all institutions and commercial establishments.
Mandatory requirements in all governmental buildings
Mandatory solar water heaters for residential use on plot sizes of 168 m2 and more
Requiring architects to certify that an SWH (solar water heater) installer provided for necessary plumbing in all new buildings
Requiring utilities to consider rebates in their electricity tariffs for households using an SWH
Requiring urban local bodies to ensure compliance with mandatory orders and consider rebates in property tax
Preparation of best practices guidelines for system sizing, installation and trouble-shooting
Creation of a revolving fund for Energy Service Companies (ESCOs)
Set-up of a data base of installations and random checks on compliance with mandatory orders
Upgrade of the supply chain and service network with the help of local manufacturing and dealerships, in order to provide easy availability of manufacturing parts and quality installations / repairs
Development of training and capacity building programmes to achieve quality installations and services
Launch of extensive awareness campaigns in the media and press