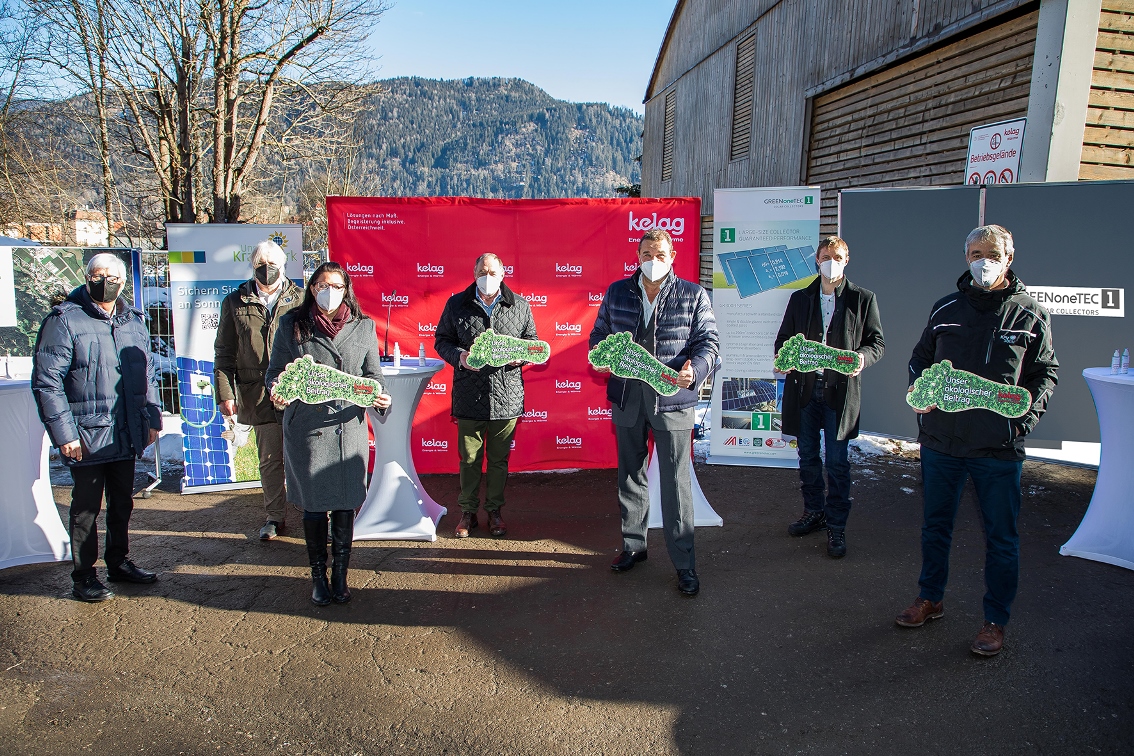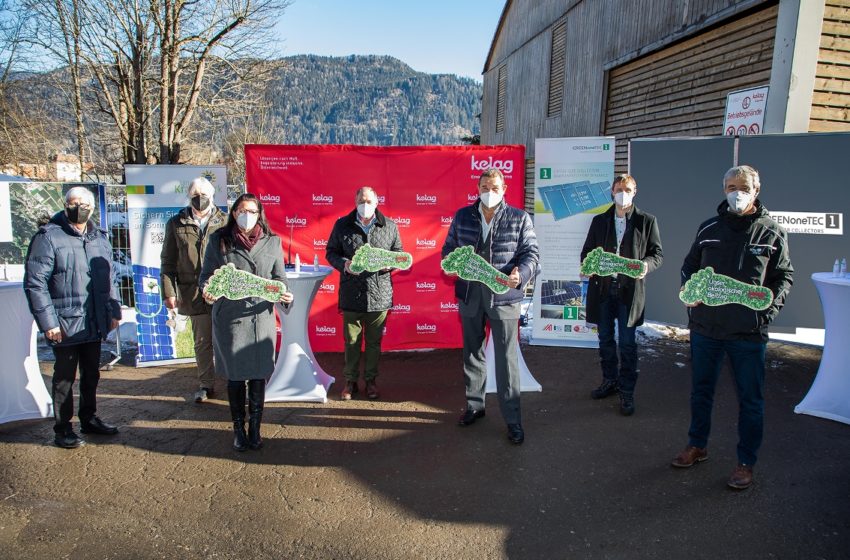 25-year heat supply contract for 4 MW SDH plant
Supported by a community financing model, southern Austrian solar heat specialists Unser Kraftwerk and Greenonetec have joined forces to build a 4 MW solar district heating plant in nearby Friesach by summer. While Greenonetec is producing the 5,750 m2 of large flat plate collectors required for the system, Unser Kraftwerk will be in charge of its installation. The latter will also operate the plant over the next 25 years, having signed a heat delivery contract with utility Kelag Energie & Wärme for exactly this purpose. The photo shows representatives for main partners holding up green footprints during the project's official launch in early February.
Photo: Greenonetec
"In all, 80 % of the added value of this EUR 2 million project will remain in the region," said Robert Kanduth, Managing Director of Greenonetec, a collector factory a mere 30 kilometres away from the construction site. It took several years to get the project off the ground. But once complete, this 4 MW plant will be the largest turnkey SDH installation in Austria.
Unser Kraftwerk specialises in the community funding of PV plants. "We've had very good experiences with this sort of citizen financing for PV projects, so we decided to use the same approach for the solar thermal system in Friesach," explained Unser Kraftwerk Managing Director Gerhard Rabensteiner. His company pre-financed the investment of about 2 million and is now offering residents an opportunity to buy individual collectors. Each of them will receive an annual rent, set at 3 % of the purchase price.
| | |
| --- | --- |
| Collector type | Double-glazed / single-glazed collectors GK3003 |
| Collector field | 5,750 m2 (436 collectors, each with 13.2 m2) |
| Buffer storage | 1,000 m3 steel tank with 30 cm insulation |
| DH grid supply temperature | 90 °C |
| Annual solar yield | 2.5 million kWh |
| Specific solar yield | 425 kWh per m2 |
| Solar share | 15 % of annual heat demand from about 500 connected flats |
| Solar field and buffer tank costs | Around EUR 2 million |
| Specific costs | EUR 348 per m2 |
| Heat delivery contract period | 25 years |
Key figures for new SDH plant in Friesach, Austria
Source: Press release of Greenonetec sent on 4 February 2021
It has been less than a year since Greenonetec bought a
production line
for large-scale collectors from now-defunct Danish competitor Arcon Sunmark. The machinery arrived in Austria last summer. "We will start to slowly ramp up production on the new line at the end of March if we receive more orders for large solar fields," said Kanduth. The highly automated line is a cost-effective way to produce single-glass 13 m
2
collectors. Greenonetec's large, double-glazed units, on the other hand, need a great deal more manual intervention. The 436 collectors to be put up in Friesach were made on the company's existing line, as the contract with Unser Kraftwerk had been signed before the Danish equipment was purchased.
Since the beginning of this year, Greenonetec has been back in the hands of its founder. In December 2020, Kanduth re-acquired the 51 % ownership stake sold to
Chinese Haier
in May 2017.
"The 2017 purchase agreement contained a provision that would have enabled Haier to buy the other 49 % of Greenonetec at a set price following a three-year waiting period. But Haier didn't want to make use of this option as European solar thermal markets were declining," explained Kanduth. Instead, the partners agreed Kanduth would buy back Haier's stake in the company. "It was a fair partnership, but it does have its advantages to be back at the helm and make decisions as an independent business."
Organisations mentioned in this article: